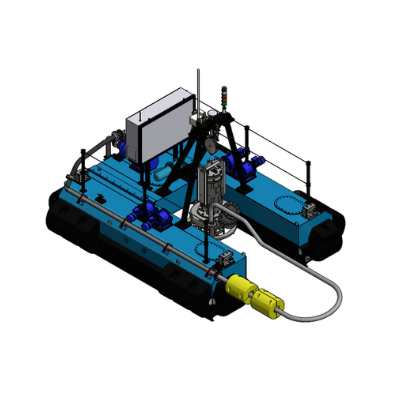 Presenting the DRP60 – a portable, remote-controlled dredge designed for versatility and equipped to accommodate various models of electric dredging pumps, namely the EL60 or EL60HC.
This dredge stands out for its user-friendly nature, ensuring effortless operation through remote control, thereby eliminating the necessity of onboard operators.
Its primary applications encompass the effective cleaning of industrial and mining ponds, in addition to streamlined maintenance dredging within harbors. Count on the DRP60 to excel in these pivotal tasks while maintaining utmost safety and ease of use.
| | | |
| --- | --- | --- |
| Length | 5.3 mtrs | 17 ' |
| Width | 4.3 mtrs | 14 ' |
| Height | 4 mtrs | 13 ' |
| Weight | 5170 kg | 5.7 ton |
Dimensions

Two (2) pontoons 4,5 m x 1 m x 1,2 m.

With central platform.

Draft

60 cm

Transportation

Transportable in only one container open top 40′.

280 quintals capacity
| | EL60 | EL60HC |
| --- | --- | --- |
| CAPACITY [m3/h] | 150 – 500 | 300 – 450 |
| HEAD [m] | 28-25 | 16-9 |
| DISCHARGE DIAMETER [DN] | DN150 | DN250 |
| MAX SOLID HANDLING | 60 mm | 90 mm |
| | STANDARD | FULL OPTIONAL |
| --- | --- | --- |
| Winches for moving | ✓ | ✓ |
| Night time operating lights | ✓ | ✓ |
| Electric hoist | ✓ | ✓ |
| Control panel | ✓ | ✓ |
| Temperature sensor | ✓ | ✓ |
| Pond bottom liner protection | ✓ | ✓ |
| Digital Depth Gauge | ✓ | ✓ |
| Power consumption indicator | ✓ | ✓ |
| Dredge GPS System | | ✓ |
| Helix propeller | | ✓ |
| Jet Ring System | | ✓ |
| Security Camera | | ✓ |