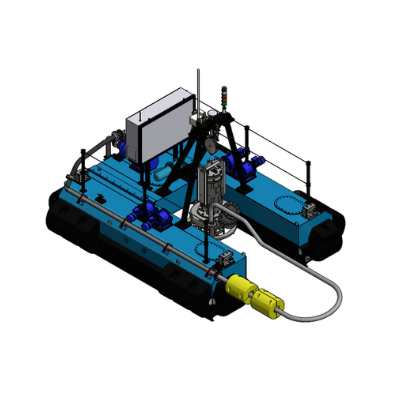 Introducing the DRP120 – a portable, remote-controlled dredge engineered for excellence and adaptable to various electric dredging pumps, including the EL1204, EL1204 HC, or EL1204 HH models.
This dredge shines with its adaptability, user-friendly operation, and exceptional safety, allowing seamless control through a wireless remote. No onboard operators required!
Its primary functions encompass essential tasks like efficiently cleaning industrial and mining ponds, as well as facilitating maintenance dredging within harbors.
| | | |
| --- | --- | --- |
| Length | 5.3 mtrs | 17 ' |
| Width | 4.3 mtrs | 14 ' |
| Height | 4 mtrs | 13 ' |
| Weight | 5170 kg | 5.7 ton |
Dimensions

Two (2) pontoons 4,5 m x 1 m x 1,2 m.

With central platform.

Draft

60 cm

Transportation

Transportable in only one container open top 40′.

280 quintals capacity



EL1204 STANDARD

EL1204HC

HIGH FLOW

EL1204HH

HIGH HEAD

CAPACITY [m3/h]

158 – 300

400 – 700

120 – 300

HEAD [m]

46-32

23-16

72-42

DISCHARGE DIAMETER [DN]

DN150/200

DN250

DN100

MAX SOLID HANDLING

60 mm

90 mm

35 mm
| | STANDARD | FULL OPTIONAL |
| --- | --- | --- |
| Winches for moving | ✓ | ✓ |
| Night time operating lights | ✓ | ✓ |
| Electric hoist | ✓ | ✓ |
| Control panel | ✓ | ✓ |
| Temperature sensor | ✓ | ✓ |
| Pond bottom liner protection | ✓ | ✓ |
| Digital Depth Gauge | ✓ | ✓ |
| Power consumption indicator | ✓ | ✓ |
| Dredge GPS System | | ✓ |
| Helix propeller | | ✓ |
| Jet Ring System | | ✓ |
| Security Camera | | ✓ |