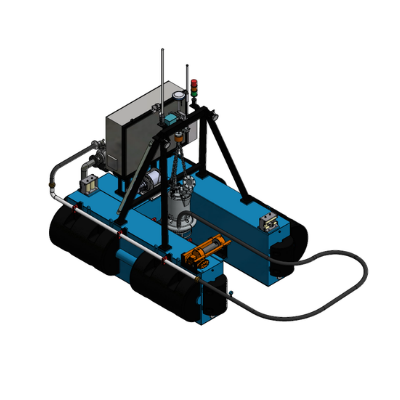 Introducing the DRP18, a versatile and portable remote-controlled dredge designed to accommodate various electric pump models, including EL5, EL7.5, EL10, EL12.5, and EL20.
Experience unmatched convenience, ease of use, and safety as the DRP18 can be effortlessly operated via a wireless remote control, eliminating the need for onboard operators.
Its primary applications revolve around the efficient cleaning of industrial and mining ponds, along with hassle-free maintenance dredging in harbors. Trust in the DRP18 to deliver outstanding performance in these essential tasks.
| | | |
| --- | --- | --- |
| Length | 3.5 mtrs | 11 ' |
| Width | 2.8 mtrs | 9 " |
| Height | 3.3 mtrs | 11 " |
| Weight | 3175 kg | 3.5 ton |
Dimensions

2 floaters 3 x 0,5 x 1 m.

With central platform.

Draft

60 cm

Transportation

Transportable in only one container open top 20′.

140 quintals capacity
| | EL5 | EL7.5 | EL10 | EL12.5 | EL20 |
| --- | --- | --- | --- | --- | --- |
| CAPACITY [m3/h] | 14 – 38.5 | 17.5 – 45 | 21-49 | 24-64 | 60-120 |
| HEAD [m] | 12,5-8 | 16-13,5 | 22-20 | 23-19 | 23-19 |
| HOSE ADAPTOR DIAMETER | 80 mm | 100 mm | 100 mm | 100 mm | 100 mm |
| MAX SOLID HANDLING | 20 mm | 25 mm | 25 mm | 25 mm | 25 mm |
| | STANDARD | FULL OPTIONAL |
| --- | --- | --- |
| Winches for moving | ✓ | ✓ |
| Night time operating lights | ✓ | ✓ |
| Electric hoist | ✓ | ✓ |
| Control panel | ✓ | ✓ |
| Temperature sensor | ✓ | ✓ |
| Pond bottom liner protection | ✓ | ✓ |
| Digital Depth Gauge | ✓ | ✓ |
| Power consumption indicator | ✓ | ✓ |
| Dredge GPS System | | ✓ |
| Helix propeller | | ✓ |
| Jet Ring System | | ✓ |
| Security Camera | | ✓ |